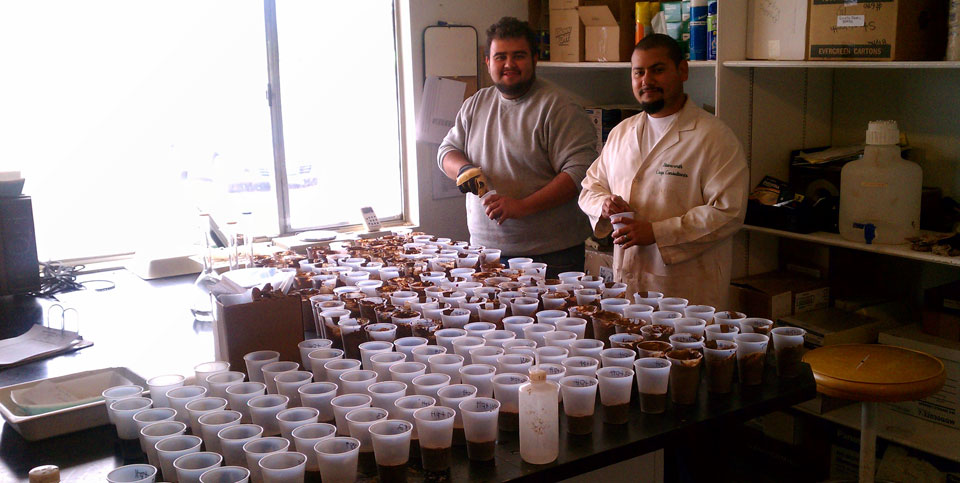 Nothing is stressed more at Stanworth's than quality service and accurate results, and our clientele expect nothing less. Because your results are important, we have rigorous standards, protocols, and tests to confirm and verify that there is nothing but perfection in your reports.

Here at Stanworth's, there are seven steps to insuring accurate test results.
Participation in Laboratory Certification Programs
Purchased Calibration Standards
Purchased Quality Control Reference Standards
In House Standards
Duplicates
Blanks
Quality Reagents
1. Participation in Laboratory Certification Programs:

We participate in multiple programs to obtain certification as a professional laboratory. Generally, a single sample is collected, distributed, and tested nationwide. The participating laboratories are then graded on how the results compare to the known constant values. These tests are usually conducted quarterly to assure continued certification. Some programs use double blind tests, in which they send us samples in our clients name, so that we are not aware of our being tested. To see our certifications and programs, please view our
NFTA reports
and visit the
CTS website
.
2. Purchased Calibration Standards:
It is important to make sure that our equipment is testing with accuracy. We use purchased calibration standards to create a mathematical curve which is used to establish know levels of the analyte. We purchase our calibration standards from only certified and trusted vendors to insure quality.

3. Purchased Quality Control Reference Standards:
We also purchase Quality Control Reference Standards to insure excellence in our laboratory's performance. These samples have been tested nationwide for a precise and accurate reading. We run three of these standards with every batch that we analyze. We know to recalibrate and retest if our machine is not within tight specifications of these known constants.
4. In House Standards:
In addition to the Quality Control Reference Standards, we use our very own In House Reference Standards with every test batch that we run. These In House Standards are samples that were taken by our own agronomists in our geographic area to reflect local attributes. They have been scrupulousy tested to generate an accurate constant value. We use two of these samples with every test that is run to ensure quality in results.
5. Duplicates
We employ the use of duplicate samples to further ensure the precision of our laboratory. For our duplicate program, we choose a random variable sample and analyze them multiple times within the run. We also analyze duplicates of our qc reference standards with-in the run. If these numbers differentiate more than our tight specifications, we retest all of the samples.
6. Blanks:
A blank sample is used to ensure quality as well as quard against contamination. A blank is a sample which is only the extraction fluid prepared the same if it contained the material to be tested, it should give us a reading of zero on our machine. If the machine detects any color in the sample, which would result in a number greater than zero, then we know that our equipment/reagents may be contaminated. This may or may not be addressed depending upon the degree of contamination. Furthermore, the equipment may be meticulously cleaned before analysis can proceed.
7. Quality Reagents
Because accuracy in your results is important to us, we purchase only reagent grade chemicals to ensure that every reagent we use goes that extra step in raising the bar in laboratory quality.